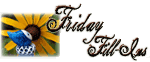 1. Please don't tell
me that I look pale and should put on some makeup. I don't do makeup. I won't cut my hair. This is what a middle-aged woman looks like. (Yes, this has been an issue lately. Yes, teabirds can snarl.)
2. Can you
leave me the hell alone
in the morning
until I've had some tea? Please?
3. The color
periwinkle
makes me want to
knit a periwinkle shawl to wrap myself in when the world is too sharp-edged.
4. I have a craving for
a silent retreat.
5. If my life had a pause button, I'd pause it
often.
6. Eyes are the
blurry windows from without and within.
7. And as for the weekend, tonight I'm looking forward to
watching a few more episodes of the second season of "The Invaders,"
tomorrow my plans include
knitting a quick pair of fingerless gloves to help me cope with a workplace that lost its heat and doesn't know when it will find it,
and Sunday, I want to
knit with (very tolerant) friends.

(Note: the original fill-ins form ends this sentence with an exclamation point, but my head aches and the punctuation felt like a damned dagger.)