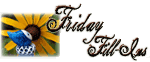 1. For me
glibness
is the opposite of creativity.


2.
The Thirteenth Tale
was the last excellent book I read.


3. I like fill-ins because
they guide my thoughts and force me to actually decide something
.
4. In nature I like looking at
the moon
.
5.
In a perfect world, Dennis Kucinich
should win the US elections.
Since the world is not perfect, Barak Obama

.


6. The last time I laughed with all my belly was
watching "Devil Doll," courtesy of MST3K
.
7. And as for the weekend, tonight I'm looking forward to
seeing Suzanne Vega in concert
, tomorrow my plans include
finishing a knitted gift
,
and Sunday, I want to
watch a few episodes of "The Invaders" with my husband
.