Did you enjoy New Year's Eve? My husband and I went out for an early dinner, watched some of a "Twilight Zone" marathon, and ate a truly ridiculous amount of chocolate, including truffles from "See's" that would beat anything Godiva could throw at them, no question.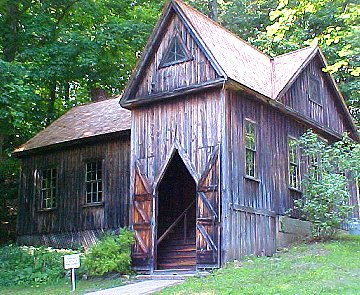 The last week of December was unusual because it offered two amazing television programs about two amazing women who were - at least on the surface, quite different. I wonder, though, whether they would have liked each other for their boldness, their resourcefulness, and their practicality. Both women worked to support families. The Alcotts needed support because Amos Bronson Alcott was brilliant, but unable to hold a job. Patti Smith had children to support when her husband died.
Sometimes, necessity can be a powerful muse.
The American Masters program,
Lousia May Alcott: The Woman Behind Little Women
, was too short. I wanted more - more Louisa, of course, but also more Amos Bronson and more Abigail. He has always fascinated me because he was known for his brilliant and iconoclastic speeches and innovations, but he was unable to write a coherent paragraph. (He was, however, able to design and the building that housed meetings of the Transcendentalists. Look at that photo and tell me you don't feel drawn to its whimsy!) Abigail has always fascinated me because she did not hold him back from his experiments or object to his passion for philosophy and innovation, despite the practical hardships and chaos the family endured.
I have not read the biography that the program was based on (nor the collection of her
journals
, alas), so it shall be the first book I'll add to this year's TBR list. (Last year's list was huge. I managed to whittle it
up
tenfold.)

And then, there was
Patti Smith: Dream of Life
.
I have written about Patti Smith
before
, but I don't think I ever could capture my passion for the woman. This film, a type of cinema verite, follows Patti Smith through ten years, countless flashbacks, interviews, and snippets of performances.

Throughout the film, she takes photographs using an old Polaroid camera. Isn't that a perfect metaphor for artistry? She looks at an object, a scene, a peron, photographs what anyone else would see, and then peels that objective reality away, leaving a blank space for her own vision.
The film got, shall we say, mixed reviews, but
Andrew O'hehir from Salon got it right:
One of the greatest things that can be said about Patti Smith, I think, is that although she was either an inventor or a precursor of punk (depending on how you look at it), it rapidly bored her and she moved on. She couldn't be contained by any movement or ethos or ism, and anyway was always closer to being Rimbaud or Ginsberg than to being Billy Idol (or, for that matter, Joan Jett), and by the early '80s she was married and living in suburban Detroit. Her great triumph was not that she was a female rock revolutionary, or that she left music for a domestic life, or that she came back to it when that domestic life ended. It was that she never questioned her right to live her life exactly as she saw fit, to make it up as she went along in the great tradition of all those dead white male artists she worshiped. As Sebring's film makes clear, she's still doing that today.