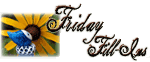 1. I remember, I remember,

just give me a minute

.
2. Dear

Anne Tyler
, I want you to know

that I want you to write more books, and soon. (Please.)
3. Is that my,

um, whatchamacallit
!!??

(I guess I didn't remember after all.)
4. I'm trying to resist the temptation of

halvah. It's been a long time.
5. I'm saving a

*interesting, I can't seem to answer this one... *
just for you!

(I wonder what that says about me? )
6. If I made a birthday list

a spinning wheel
would definitely be on it!!!
7. And as for the weekend, tonight I'm looking forward to

Bill Maher on HBO
,

tomorrow my plans include

laundry, letter-writing, and finishing Agnes Grey,
and Sunday, I want to

practice spindling with my Ravelry peeps. (I'm doing much better. I'm no longer in danger of strangling myself.)