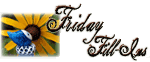 1.
Looking forward to September
is my favorite only summertime

comfort

.


2. My favorite John Hughes movies is

(oh dear, I never saw one...)


3.

Velvet
is something I love to touch. I even love to imagine touching velvet. In fact, when I have a migraine, I imagine a soft, dark green velvet pillow beneath my head. I still regret not buying a pair of green velvet gloves when I was Harrod's. I might have a bit of an unhealthy love of velvet. Maybe I shouldn't be telling you this.


4. The full moon

delights me more than almost anything. Not everyone sees a man in the moon -

some see a rabbit...


5.

Somewhere, someone is writing a haiku
right now.

I wish it were me.


6. When daylight fades

I want to be home

.


7. And as for the weekend, tonight I'm looking forward to watching

"Real Time" with Bill Maher
, tomorrow my plans include finishing a knitted hat for Care to Knit
,and Sunday, I want to

spin with one of the pretty spindles I've been collecting and knit with the my Ravelry peeps.
Have a lovely weekend, everyone!