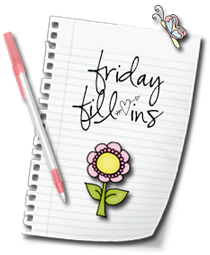 1. The last thing I ate was

a blueberry scone
and

tea. I am so predictable that a stalker would be bored.
2.

Cranston (by Mrs. Gaskell)
is something I recently bought.

How could I not? It was on the 1/2-price table at Barnes & Noble, and I had a gift card to use. (As if I need an excuse to buy books. Sheesh.)
By the way, I saw something at Barnes & Noble that made me wince very, very much: a table of books and paraphernalia related to the anniversary of Woodstock. Books, ok. But a jigsaw puzzle? no.no.no.no.no.
3. When it rains, it

makes my head ache, but it doesn't make me unhappy if I can watch it when I'm home and dry.
4.

My husband
was the first person I talked to today.
5. Hugs are

indispensable.
6.
Letters in the mail

are extra comfort

when I come home from a trying day.
7. And as for the weekend, tonight I'm looking forward to
, tomorrow today my plans include

writing two overdue letters and

eating a delicious Greek dinner
,

and Sunday, I want to

visit friends
!