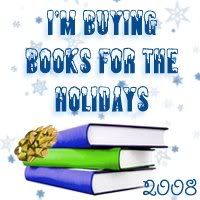 Isn't this a splendid idea? Of course I believe in giving books for the holdiays, being a book junkie and a librarian and all. Choosing a book for someone else lets you focus on that person - what she likes, what she needs, what she dreams about - and erases some of the stress that accumulates in the holidays season. Click over to their
website
for some book suggestions, check out your friends' Amazon wishlists, and connect with a meaningful gift for a loved one.
Of course, you know I also support
Heifer International
and other organizations, but I'll write about them another time.
What does a fatigued and fried librarian do on her lunch hour? If she's
stupid
me, she drives to Barnes & Noble for tea, a blueberry scone, and anonymity. (Especially anonymity.) I'm happy to say that I overcame two NaNoWriMo hurdles: I wrote 3 pages

despite

having left my

real

NaNoNotebook at home, and I used a plain ol' ballpoint pen in the generic notebook I grabbed from my car. I tend to obsess about tools. It's good to know I can function without the perfect tools. At least once in awhile.