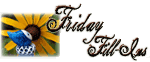 1. There is no need

for 90% of the packaging that manufacturers use for their products.


2. Where in the heck did the

idea that we should want to have a beer/cup of coffee/slice of pie with our president come from? I mean, really. Grow up.
3.

All I could do
is all I managed to do.
4. Prospects for

whatever = "better not tell you now." My Magic 8-Ball just told me so.
5.

The message
is the message.
6. Simplicity and tranquility

are not necessarily dependent on each other.
7. And as for the weekend, tonight I'm looking forward to buying Joan Osborne's new cd
, tomorrow my plans include

listening to Joan Osborne's new cd (and the cds that Pix and Kata made for me
), and Sunday, I want to

sit quietly and watch the chipmunks that play on the deck while I knit.