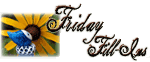 1. I enjoy

watching for the first leaves to change colours in the fall. Last week, I saw a few peeking out from behind a fence. Joy!
2.

Balance

is something I wonder about often lately.
I am trying to cope with several balance issues right now - physical balance (health issues), emotional balance (family issues), and balance between hope and fear in a political atmosphere that favors the latter.
3. In your heart, you knew

I would find a soul-mate, and I did.
4. Take

an autumn afternoon at the Metropolitan Museum of Art

, add a little

time to walk down Fifth Avenue,

and you end up with

a happy sense of belonging to a large and beautiful world.
5. Life has gifted me with

intellect, which can be a questionable gift. Some fear and shun you because of it, and others taunt you when you make an error. Truly, it is another balance issue, because you have to learn to put intellect aside when compassion or something ineffable are more important than facts.
6.

An afternoon nap, falling asleep to the music of Anonymous 4 or Debussy

is an instant vacation.
7. And as for the weekend, tonight I'm looking forward to

Bill Maher on HBO
, tomorrow my plans include

a trip to the bagel store and one fresh, warm sesame bagel
, and Sunday, I want to dive into Vanity Fair
!